Jenny Talia says....
"I read the Vitriol every day, right after my green tea and before I take Joshua and McKenna to day camp. Today I'm going to boil kittens using a recipe I got from Chuck, and I serve them in a klonipin cream sauce that Chili taught me to make; Thanks, The Vitriol!"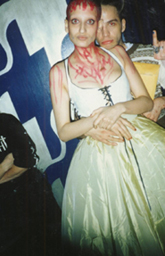 The Vitriol loves Jenny, and we have just inducted her into the pantheon as a demi-goddess; she is the one we pray to when we want to find JUST THE RIGHT OUTFIT to scare the shit of the hot Mormons knockin' on the door. Her prayer is: "In jenny's name we pray, may your hand guide my lipstick right off my face and your holy scissors artfully destroy my vintage gowns. Pass the E."
© 2006 CH